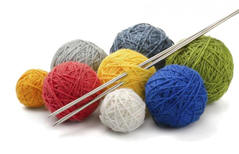 ---
PHILLY SCHOOLS "FIBER ARTS" PROGRAMS
We promote in-school, after-school, and summer school Fiber Arts programs. We strongly recommend starting with #1. PomPoms, etc., before moving on to #2. Crochet and #3. Knitting (see below). We also recommend keeping your projects very simple initially, so that students learn how to do anything they want without needing to read a pattern. Then teach pattern reading if time permits.
---
If you want to donate supplies, start a Fiber Arts program at your school, or know of other Philadelphia schools with Fiber Arts programs, contact: lynnlandes@earthlink.net. Volunteers need these security clearances. Philly Knits is currently hosting after-school knitting programs at Tilden Middle School and Furness High School.
---
PUBLIC SCHOOLS:
PRIVATE SCHOOLS: These schools hold in-school programs.