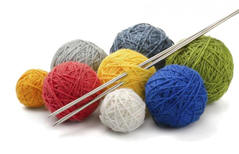 ---
FUN WITH FIBER! POM POMS, TASSELS, TWISTY CORDS, & FINGER KNITTING!
Learn to make PomPoms & Twisty Cords - It's a great way to introduce yourself and others to the world of Fiber Arts! And you can add photos of your PomPoms, Tassels, and Twisty Cords to our Philly Knits meetup album - https://www.meetup.com/Philadelphia-Knitting-Meetup/photos/28373267/
---

PomPoms!
General directions: Wrap yarn around your hand (fingers, fork, etc) several times, take off, tie tightly in the middle with a strand of yarn, cut loops -not 2 long strands used to wrap pompom, and trim as necessary, affix to Twisty Cord (see below), shoes, bags, dogs, cats, mice, etc.
TIPs:
wrap yarn twice around middle of pompom, before tying first knot.

3-wrap-knot: when tying your first knot, wrap the left yarn three times around right yarn before pulling tight.

flip pompom over and repeat process, flip again and repeat process a 3rd time

for your last knot, tie yarn "left over right, then "right over left" - that's a square knot and will not pull out.
Making pompoms with your hands or fingers:
Making pompoms with other aids (carboard cutout, toilet paper rolls, forks, etc.):
https://www.youtube.com/watch?v=nSj42sIFadI



---
Tassels:
---
Twisty Cords!
General directions: Take one or more pieces of yarn, equal lengths, fold in half, knot together at one end, step on knot end with foot (or use a friend, doorknob, etc), twist tightly (holding onto the far ends), keeping yarn taut (i.e., extended, stiff, etc), put finger in the middle of cord, fold over, grab other end, keeping the cord taut, then let go of the one end shaking your arm up and down violently, smooth out the cord by running your hand down the cord, knot off at both ends & cut ends to make a tiny tassel of sorts.
---
Candy-Cane Twisty Cords!
Instead of twisting all the yarn together, make two loops, tie the first yarn(s) at one end, then loop the second yarn(s) into the first loop and tie it off as well (see below). Start twisting with the knot ends at the far ends of the cord. Then follow the directions as above. By keeping the yarns separate creates the candy cane design!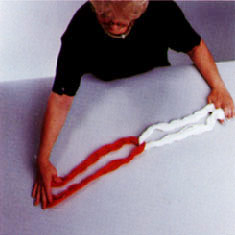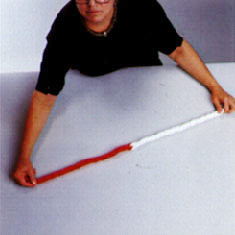 TWISTY CORDS: HODGEPODGE & CANDY CANE STYLES!
<![if !vml]><![endif]>

<![if !vml]><![endif]>

<![if !vml]><![endif]>

Step 1. Cut 2 equal lengths of yarn

Step 2. Tie a knot on each end.

Step 3. Hold down on end and twist the other end.

<![if !vml]><![endif]>

<![if !vml]><![endif]>

<![if !vml]><![endif]>

Step 4. Hold taut on both ends & fold in the middle. For bigger projects, use a partner, foot, or door knob to keep yarn taut.

Step 5. Bring ends together & prepare to release yarn.

Step 6. Yarn will automatically twist!
Like magic!
<![if !vml]><![endif]>
<![if !vml]><![endif]>
<![if !vml]><![endif]>

This design is called, "Hodge Podge"

For a "Candy Cane" design, take one strand of yarn, tie the ends together, then loop through the second yarn and tie its ends. Follow the directions above
Steps 3-6

And now you have a "Candy Cane"
Twisty Cord!
---
Finger Knitting!
SIMPLEST METHOD: LOOP & LAY!
Directions: Loop yarn around each finger in succession, then lay down the yarn above the yarn on each finger, pull bottom yarn over top yarn, when finished lay yarn down going the other direction and again, pull bottom yarn over top yarn on each finger, repeat until you reach desired length.
HOW TO REMOVE PROJECT FROM FINGERS: start with finger furthest from working yarn, take yarn off that #1 finger and place it on the next #2 finger and over top of the yarn already on #2 finger, take yarn already on #2 finger and place it on the next finger (#3), repeat for #3 and #4. Also see video below....
1. Anchor yarn with thumb
2. Wrap each finger with yarn,
starting from behind finger
3. Then lay yarn above looped yarn
4. Pull bottom loop yarn over each finger
5. Lay yarn in opposite direction, and repeat Step 4, pulling bottom loop over each finger. Repeat process until you reach the desired length.
6. To finish and working toward ball yarn, place first loop on next finger, then pull bottom loop over finger, repeat until project is off your hand.
7. Draw yarn through final loop and cut!
Your finger knitting project can be as long as you like and it also can be sewn together as a unit or in sections if desired.
TRADITIONAL METHOD:
VIDEO: Finger knitting (Tutorial Video) - Garnstudio