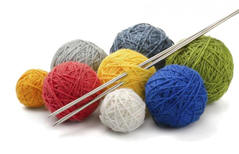 ---
LIBRARY "FIBER ARTS" GROUPS:
Call before you go, to be sure these groups are still active! Also, we have started an informal ADOPT-A-LIBRARY program to assist libraries with their after-school and summer programs to teach adults or children how to knit or crochet. Please contact your neighborhood library and volunteer.
---
TUESDAYS:
Thomas F. Donatucci https://libwww.freelibrary.org/locations/thomas-f-donatucci-sr-library
Knitting & Crochet Circle meets every Tuesday at 6:30 PM. Bring your latest project and relax at the Donatucci Library for a low-key evening of crafting. All fiber arts are welcome. This program is intended for adults only. Address: 1935 W Shunk St, Philadelphia, PA 19145 / (215) 685-1755 EckertK@freelibrary.org
---
WEDNESDAYS:

Lucien E. Blackwell West Philadelphia Regional Library

https://libwww.freelibrary.org/calendar/event/69471
Time: 6 pm
125 South 52nd Street (West Phila. Regional 52nd & Sansom Sts.)


Philadelphia, PA 19139-3408


Adult/Teen: 215-685-7433/Children's: 215-685-7422
You can RSVP on our meetup page - https://www.meetup.com/Philadelphia-Knitting-Meetup/

The Ramonita de Rodriguez / Girard Library https://libwww.freelibrary.org/branches/branch.cfm?loc=rgr https://www.facebook.com/RodriguezBranch/
Location: 600 West Girard Avenue, Philadelphia, PA 19123-1311 (6th St. & Girard Ave.)
There is plenty of free street parking, and Septa route #15 stops right in front of the door.
About us: Crocheting craft & chat meeting every Wednesday at 5pm
Contact: Lisa Chianese-Lopez chianesel@freelibrary.org 215-686-1768

South Philadelphia Library https://libwww.freelibrary.org/calendar/event/61641 /
Time: 6-8 pm
Location: 1700 S. Broad Street Philadelphia PA 19145 US


Phone: 215-685-1866


Comment:

There is a group of us knitters & crocheters who meet at the South Philly branch library (on Broad @ Morris) on Wednesday from 6 pm to close (8ish). We will be in the back towards the kid's section by the windows facing Broad Street. There are only a few of us now but more are definitely welcome.

It's quite informal, a just show up and knit vibe.
You can RSVP on our meetup page - https://www.meetup.com/Philadelphia-Knitting-Meetup/
---
THURSDAYS:
Lillian Marrero Library https://libwww.freelibrary.org/mobile/branch.cfm?loc=LEH
https://www.facebook.com/lillianmarrerobranch/
Location: 601 West Lehigh Library
Dates: July 9 through August 13, 2015
Time: 3:00 to 4:00 p.m.
Bring your knitting, crocheting and other handiwork and enjoy an hour of relaxing listening to a good book read aloud. Enjoy cold drinks and light refreshments.
Lovett Memorial Branch Library Knitters (closed for renovations, will re-open in 2018)
Location: 6945 Germantown Ave Philadelphia PA 19119 US
Phone: 215-685-2095
Contact: Teresa Glover, Children's Librarian glovert@library.phila.gov
About us: Lovett Knitters meets every Thursday in the Library's meeting room from 3:00-4:30. You are welcome to drop in any time during these hours. All skill levels (from absolute beginners to advanced knitters) and ages are welcome. For more information please call Teresa at 215-685-2095. We would love to have you join us! We make / need: Group members work on projects of their choosing. I give advice on new projects and the Library has books on knitting to borrow.
---
SATURDAYS:
The Wynnefield Library - 4th Saturday of the month, 1-4 pm
Location: 5325 Overbrook Avenue, Philadelphia, PA 19131-1498
Contact: 215-685-0298 or https://www.facebook.com/Yarnys
About us: "Sisters Interacting Through Stitches" is a diverse group of women who crochet and knit items, that are donated to local, national and international programs.
You can RSVP on our meetup page - https://www.meetup.com/Philadelphia-Knitting-Meetup/
Northeast Regional Library - Women's Craft Circle (call for schedule)
Location: 2228 Cottman Avenue
Contact: Lisa Carpenter, Adult/Teen Librarian
(215) 685-0512 / Carpenterl@freelibrary.org